« Back to All Checklists & Calendars
Beach Packing List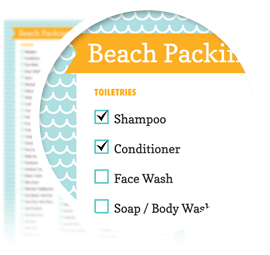 This is the complete packing list I use when I'm getting ready to travel somewhere warm where there will be a beach, pool, or some type of fun water activities! The checklist includes two pages: the first
More
page has my suggested list of things to pack for your beach vacation. The second page is completely blank allowing you to customize the list completely!
This list has type-able fields which means once downloaded, you can type into the actual list before printing (or just save it on the computer and use it from there)!
This is an undated list which means you can use it (and reuse it) forever!
Includes 8.5″ x 11″ and A4 format
Once purchased, you can print as many copies as you need!