« Back to All Checklists & Calendars
Senior Phone List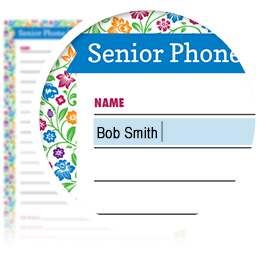 This checklist was created after my Nana fell down at the grocery store and nobody could find phone numbers of family/friends to call. This particular checklist contains large and easy-to-read fields for contacts
More
and phone numbers of friends and family. But most importantly, it comes with four smaller checklist versions on page 2 for keeping smaller backup copies in the car, purse, or with an assistant/aid (I suggest laminating the smaller versions so they don't get damaged!). Just fill in page 1 and the fields on page 2 (the smaller checklist versions) will auto-populate!
This list has type-able fields which means once downloaded, you can type into the actual list before printing (or just save it on the computer and use it from there)!
This is an undated list which means you can use it (and reuse it) forever!
Includes 8.5″ x 11″ and A4 formats.
Once purchased, you can print as many copies as you need!