← Go Back
The Container Store's Annual elfa® Shelving Sale Dates
Are you ready to do your own organizing project at home or in the office? If you're preparing to begin an organizational overhaul, then you will probably need some products like bins, hangers, hooks, folders, and other organizing tools. Luckily all of these items can be found in one location, The Container Store, which has various sales that run throughout the year.
(If you're looking for the best organizing products that I've already thoroughly researched and tested, and use in my home, then you can see them all on the Products I Use page.)
Unlike other retailers, The Container Store's sales typically run for 6 – 8 weeks. However, the specific annual sale schedule changes each year. Sometimes sales may even overlap. Some sales include elfa® products and usually installation of elfa® is also applicable for the sale (but this is subject to change).
Here is a general guide for the how to take advantage of the best deals and promotions for The Container Store shelving and storage offers each year:
Annual elfa® Shelving Sale
Time of Year: December 24th through mid-February (typically 8 weeks)
Promotion: 30% off all elfa® products and installation.
Work Smart Office Organizing Sale
Time of Year: Right after the Annual elfa® Sale through mid-March (and sometimes through the April 15th Tax Day)
Promotion: Various discounts on office products
Spring Organizational Sale
Time of Year: April – May
Promotion: Various discounts on spring organizing items, especially the closet section and items that manage humidity for storing clothing.

Happy Organized Home Sale
Time of Year: August – September
Promotion: Various discounts on summer organizing products.
Container Store Shelving (elfa®) Sale
Time of Year: August – October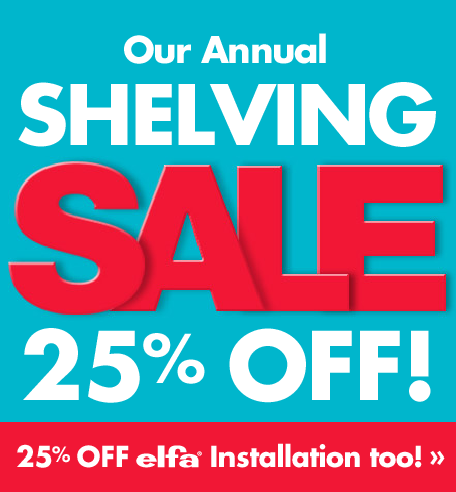 Promotion: 25% off elfa® Shelving and installation. elfa® Drawers are not included.
As stated above, this is just a general guide for the annual sales at The Container Store. The exact dates and terms are subject to change each year. I suggest you check The Container Store's website for the exact dates and promotions each year. I hope this helps you to snag a fabulous deal for your next organizing overhaul.
By the way, if you'd like help getting started getting organized, you can sign up for my free 3-Day "Start Organizing" Video Series. I'll show you 3 small things you can do tonight to feel more organized tomorrow.
Click Here to Start Shopping for elfa® at The Container Store
But, before you go… have you ever seen how The Container Store throws a party?
The Container Store Grand Opening Party – Part 1
The Container Store Grand Opening Party – Part 2
The Container Store Grand Opening Party – Part 3
About the Author

Alejandra Costello is a Creative Organizing Expert who teaches busy people how to declutter their lives with easy-to-follow (and fun!) video-based training in her SimpLESSity program and free organizing video series! Alejandra started her company, Alejandra.tv, in 2008 and to date has shared her organizing expertise with millions of people in over 100 countries around the world. Named 1 of the 5 most organized people in America by HGTV, Alejandra's creative expertise has been featured in Good Morning America, Oprah, The Washington Post, The Wall Street Journal, Good Housekeeping, Family Circle, Woman's Day, Parents Magazine, and CBS. You can connect with her on YouTube, Facebook, Twitter, and Google+.